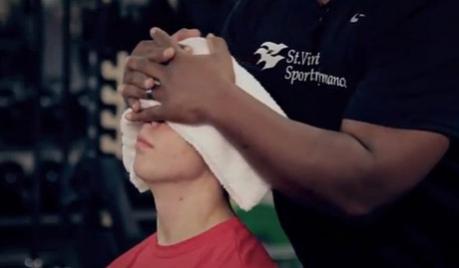 Weight rooms are flooded with young athletes during this time of year looking to get bigger, stronger and faster for next season. Arms. Shoulders. Chests. Legs.
All these areas are vigorously addressed by hardworking teens adding muscle and power.
Don't forget about the neck, though. Strengthening that area may not be glamorous, but it might just save next season.
"Recent studies show that improving cervical spine and neck strength helps to limit transitional forces that can cause concussion," said Dr. Patrick Kersey, USA Football's medical director of St.Vincent Sports Performance in Indianapolis. "Head injuries are caused by a sudden change in directional force. That additional strength gives the athlete the potential to protect them more."
Neck strengthening exercises can be as simple as working against minimal resistance applied by a partner. At Christopher Columbus High School in Miami, players are required to do neck strengthening exercises three times a week.
Columbus head coach and Heads Up Football Master Trainer Chris Merritt said players partner up and do simple movements that work just as well as expensive equipment.
"There are neck machines out there but they are bulky and expensive. There are also accessories that fit over the head but they, too, are neither cheap nor convenient," Merritt said. "We accomplish this through partner resistance exercises. Those exercises along with the lifts that focus on the traps accomplish strengthening everything above the shoulders that support the head.
"Though we started doing these exercises as a part of our complete strength routine – not necessarily in order to prevent concussions – that just adds affirmation more than anything else."
For younger athletes, Kersey suggests having them put their helmets on and move their heads slowly from side to side, then back and forth, then rotational.
The results won't be as obvious as bulging arms, but the benefits are worth it.
"Kids like to lift weights that build muscles and make them look stronger," Kersey said. "Nobody notices when you strengthen your neck muscles, but you will notice if there's contact from the side."