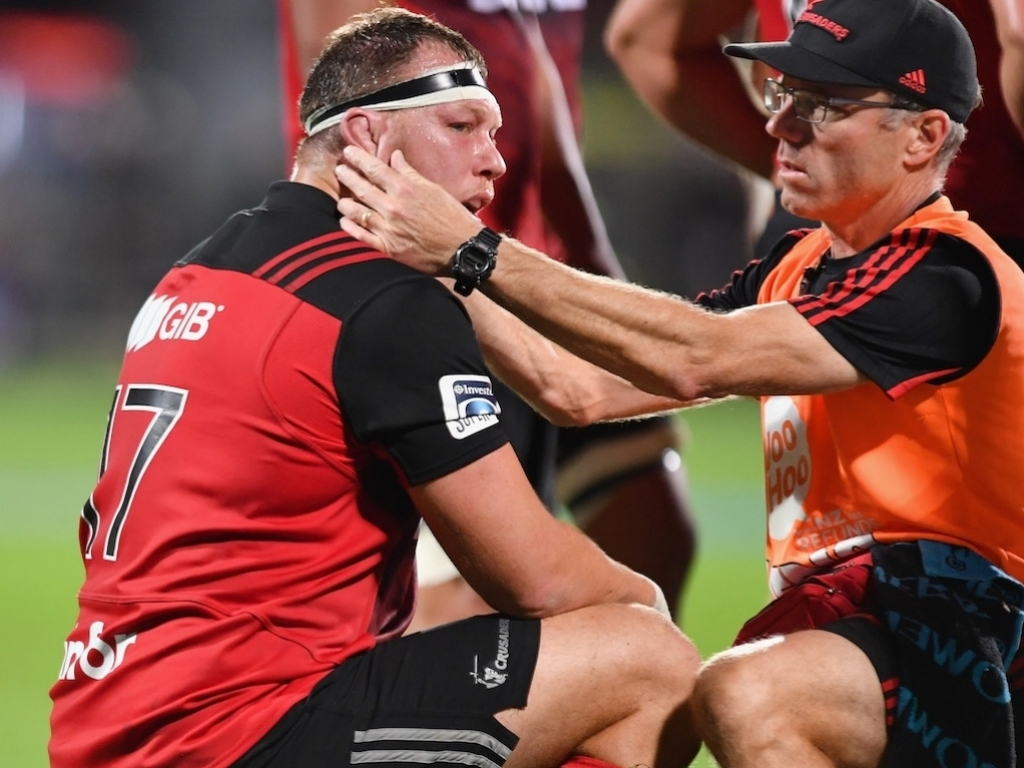 'Extremes are easy. Strive for balance.'
The uplifting idiom seems somewhat restricted to preachy social media posts and the offices of David Brent-like bosses across the country. Unfortunately, it does not seem to have found its way to the world of rugby.
The sport finds itself well and truly at a crossroads with how it continues to deal with the issue of concussion. Rugby has been playing catch-up for some time with concussion, with knowledge about it still somewhat limited.
The latest piece of research to emerge has pointed to neck strength being a catalyst to concussions, with players with stronger necks less likely to suffer according to the Otago-based study.
Dr Barry O'Driscoll, who was a medical advisor to World Rugby before he stepped down in 2012 due to their handling of concussion, believes that the latest theory is "definitely worth looking into and it wouldn't surprise you" if it was validated.
"If you think about what concussion is, it's the neck rotating or going back or forwards and the brain inside the head bouncing around inside," he said.
"Well if you're neck muscles are stronger, maybe that happens less. So I wouldn't be surprised to see that neck muscles are a factor."
But what if the sport of rugby in its modern incarnation ends up weakening players' necks, rather than strengthening them?
"That's a good question that's very difficult to answer as far as the neck goes," O'Driscoll explains.
"You see the conditioning that goes into front-row forwards neck and it'll be interesting to see if they get arthritis in their necks later on.
"It's not just one single thing, it's a combination of the heavier player going in faster, building his neck muscles but as one part gets protected, another part gets exposed.
"This is the trouble. The higher the impact in the game so they try and build their neck up more so they can go in harder and maintain that through a season but will they have to pay a price.
"The game is at a stage now where it is worrying that we are manufacturing players to continually put their bodies through impacts which maybe the body wasn't designed for.
"We won't tell (the consequences) for a long time to come. It's finding a happy medium. How much they are going to suffer from degenerative problems in later life, that's another factor. This is why concussion is not going to go away.
"There's ongoing research and great longitudinally research being done but because we didn't start taking concussion seriously until about five, ten years ago, we haven't got those facts yet.
"They'll only come in time."
However, as it stands, rugby is struggling to find the happy medium that Dr O'Driscoll mentions.
As with the juxtaposition of neck strength within rugby, it could be argued that for every act or notion that looks to eradicate concussion, there is something else that, consciously or subconsciously, is pulling in the other direction.
Despite this year's Six Nations seeing a large number of head injuries – with England's Calcutta Cup clash with Scotland seeing five players suffer – there are still calls for the tournament to be shortened to five weeks.
"Obviously the game is under huge threat if you are going to have that average per game," adds O'Driscoll. "At the moment the average is about one and a half per game for both sides.
"But if you have four or eight per game, then it's got to be watched.
"It (shortening the tournament) cannot be in the welfare of the players. It's a commercial game now and money talks. This again is one of the reasons they want to play down the relevance of head injuries. It's not good for the game. The more they have to reduce impacts, they don't want to do it.
"But it's five brutal games in the Six Nations now. Five of those in five weeks, well I don't know."
The debate over the length of the Six Nations is not the only example of rugby struggling to find balance.
When Sale fly-half Dan Mugford was taken off the pitch with concussion in the wake of former Sale scrum-half Cillian Willis' claims of "clinical negligence", coach Steve Diamond made the ill-advised comment that "all you need is a slap on the head" to be taken off with concussion.
It was the type of comment that the sport did not need, but perhaps it reflected the attitudes that still remain within rugby.
Rugby is a very different sport to what it was 20 years ago. Attitudes, in the most part, have changed. But perhaps only because they have had to – the aforementioned research and knowledge around concussion has forced it.
If there was a way of rugby still being sustainable and marketable to a worldwide audience without having to address the elephant in the room that is concussion, then it would most likely take that route.
There is an awareness surrounding the issue like never before – which is why the number of players playing on through concussion fell from 56 percent to 4 percent since the HIA was brought in.
While on the face of it, this statistic is a positive step forward and points towards tangible change, not everyone is quite convinced by the numbers.
Dr O'Driscoll, who stepped down as a medical advisor to World Rugby in 2012 due to their handling of concussion, believes that the statistics do not tell the full story.
"It's a very misleading statistic, that," he said. "It's comparing chalk and cheese in a way.
"It's comparing statistics under the old rules and when there was a stigma about concussion. When it was looked upon as a weakness, as letting your teammates down. Nobody was coming off with concussion.
"Now, with the knowledge we have on concussion, there are of course a lot more coming off and not going back on. But it's not because of the HIA, it's because we are more aware of concussion and its problems.
"Everybody is more aware and there's been a huge tsunami of knowledge and research in recent years."
Back to that cliché, extremes are indeed easy. What rugby needs now is compromise and balance.
Perhaps that balance comes from informing parents, players and all parties involved the risks, as Dr O'Driscoll suggests.
"I think it's a fantastic game and I've paid a price myself from playing it with my joints but what we must do is keep up to date on all this research that comes out," he added.
"On the whole the body is an amazing thing and can take a lot and as long as players realize they may have to pay a price. We're busy trying to figure out what that price is and inform the players before they play this game."
With the right information, maybe the responsibility can be shared to those willing to participate in rugby. But until then, concussion will continue to be solely rugby's problem which will carry on dragging it in two different directions.