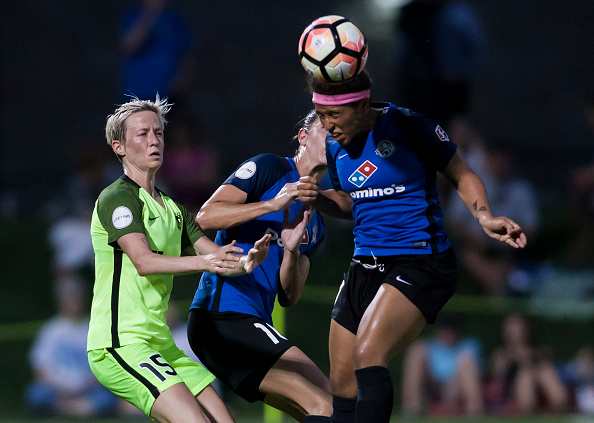 In September last year, the NFL launched a new protocol surrounding concussions. The initiative, known as "Play Smart. Play Safe," now specifies that whenever a player is suspected to have incurred a possible concussion, he must be removed immediately from the field and analyzed by a team physician, as well as an unaffiliated neurotrauma doctor. If either doctor thinks the player may have a concussion, he will be taken to the locker room for a full medical assessment and not be allowed to play the rest of the game if that suspicion is confirmed. If the diagnosis is negative, the player will still be monitored closely for any possible symptoms throughout the rest of the game.
The new protocol also mandates that the NFL must provide two medical spotters who watch games through binoculars and with video replay in order to identify possible concussions.
Last year, in part because of the new protocol, the number of concussions in the league fell by 11.3 percent from 2015.
Why bring up the NFL in women's sports?
The National Women's Soccer League's (NWSL) concussion protocol, unlike that adopted by the NFL, relies on a different premise: Players must report if and when they have a possible concussion. The problem with this premise: I can speak from experience that almost no player will report a possible concussion because they want to keep playing. In addition, soccer coaches and trainers often advise players not to report concussion symptoms so they can continue to be used in match play.
In December 2015, U.S. Soccer prohibited heading in youth programs until age 11 after the NCAA reported that concussions are the second most common injury among female collegiate soccer players, affecting 9.2 percent of those who play. (The most common injuries are contusions, or bruises).
Unfortunately, the concussion percentage in soccer is based on the number of injuries that athletes actually report, not necessarily how many they sustain. If you were to ask soccer players how many concussions they have had, the answer is usually indefinite. Oftentimes, you hear, "I've had four diagnosed, then I want to say I have had one or two more definitely, but not diagnosed." That means the percentage of actual concussions in pro soccer, including those undiagnosed, is likely much higher.
What's more, women athletes are up to 2.1 times more likely than men to suffer from a concussion; they also take longer to heal. While scientists aren't exactly sure why this is, they suspect hormones may play a role.
All these statistics highlight that the NWSL needs an effective concussion protocol. So let's look at what the league does have.
According to the league's current protocol, all players must take an ImPACT test, or computerized concussion-assessment exam, before the season's starts to establish baseline data. Then, whenever a player is suspected of a concussion, she is given the imPACT test again. If the player fails the test, she must typically wait about a week (more or less, as determined by her trainer's assessment) to retake the test. When the player finally passes, she goes onto the next phase: headers.
"Day 1, you are to head the ball 8 yards away—five times forward, five times on the right, five times on the left," Sky Blue FC player Kelly Conheeney, who has suffered multiple concussions, told Excelle Sports of the process. "Day 2, you are now 18 yards away [from the ball], and the same procedure follows: five times forward, fives times on the right, fives times on the left. Day 3, you are to stand 30 yards away and a trainer is supposed to kick the ball for you to head it five times forward, five times left, five times right … It's absurd—it's way too many consecutive headers. How long can you last? Seriously."